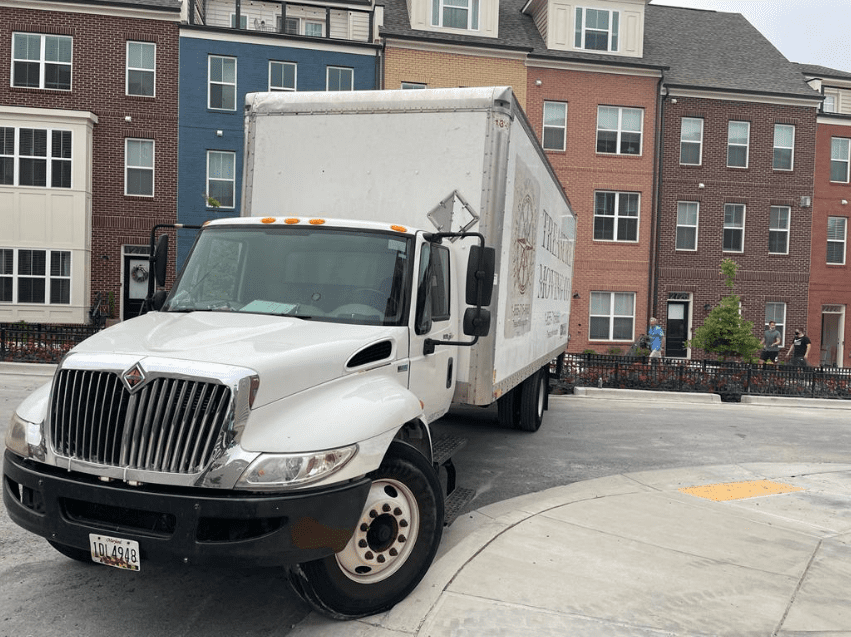 Local Moving Services in Maryland, DC & Virginia
When it comes to moving, many people try and save money by hiring a friend or family member to help them. While this is certainly something that can be done when you are moving from one block away, if your home is in a different town then the task becomes much more difficult. A residential move requires a large number of professional movers, a moving plan and the right equipment to get the job done quickly and safely.
Moving companies offer many different moving services that can help both you and your family with this stressful task. They will pack all of your items for their safe transportation, they will unpack them at their new home or house, load everything onto carts so it is easily accessible during the delivery, drive the moving truck to its final destination, and then unload all of your items into the rooms that you need them in. Moving companies are able to offer these service options because they ensure that all movers have been trained on how to handle everything from delicate antiques, pianos, television sets, paintings, and even large appliances like washers and dryers.
If you are planning a residential move, make sure to search for a moving company that is licensed and insured to handle everything from local moves near the town all the way up to large interstate relocations to another country.
You should also consider whether or not they have any recommendations from past customers as well as how long they have been in business. In the end, if you want to make sure that your personal belongings are handled with care and everything arrives at its destination safely and sound then hiring a residential moving company is one of the best ways for you to do this. Doing so will help ensure that all of your items arrive as planned during the moving day without any damages or an extreme amount of stress!
Do you need a moving service? If so, then Treasure Moving Company is here. We specialize in residential moving and packing services. No matter what type of property you have – a house, an apartment, or a condo – we will come and pack up your belongings and deliver them to its new relocation. You don't need to lift a finger! Get in touch with our agents at 855-715-6683 for more information on our moving services and click here for a free quote.
Residential Movers for Home Furniture and Appliances
For many people, moving involves just a few suitcases and boxes. However, for others, it can be an operation that may include the moving of their entire life from one place to another, including furniture and appliances. This is why you'll likely need professional movers in order to make sure everything goes smoothly with your local or long-distance moves.
Let's take a look at some of the reasons why hiring residential movers can be so beneficial for you.
First, these professionals are trained to deal with every possible situation that may arise during your move. They understand how important it is for everything to arrive safely and intact, which means they will take extra care in making sure it's packed properly and handled with care. This is not only beneficial for your belongings but also ensures that the experience of moving isn't as stressful or anxious-filled as it may otherwise be if you were to do so yourself.
Second, these professionals have a great deal of moving experience in terms of knowing exactly what needs to be done in order to make moving as quick and efficient as possible. For example, they know which moving boxes should go together (i.e., kitchen items together) so that unpacking is easy. They may even offer helpful tips on how you can decorate your new space once they're through with their work!
Finally, the services provided by residential movers are cost-effective. They know that moving can be an expensive process, which is why they're committed to offering competitive rates for their work in order to make it more accessible for you.
If you're thinking about hiring residential movers during your upcoming move, don't hesitate to get in touch with us at Treasure Moving Company. We offer a range of helpful services for you to choose from, all designed to make the process as smooth and stress-free as possible! We are residential movers that specialize in handling your Home Furniture and Appliances. Our goal is not only to provide our clients with top-notch service but to make home moving as easy and cost-effective for you.
Full-Service Residential Movers
At Treasure Moving Company, we provide full residential and household moving services to customers throughout Washington D.C., Maryland and Virginia. It doesn't matter whether it is local or long-distance moving, we can help! Our goal is to make your move as smooth and stress-free as possible. This means we handle everything during the entire moving process.
We offer an array of professional residential moving services including packing and unpacking services, loading/unloading, and transportation. Our crews are all highly trained, experienced and courteous.
We also offer specialty items for your moving needs including pads to protect furniture during moving, wardrobe boxes that are perfect for hanging clothes or suits, appliance carts that allow you to move large appliances with ease through tight doorways or up/downstairs, dollies in different sizes should you need one. We can also provide recycling bins if you are moving out of an apartment or condo so you can dispose of your unwanted items responsibly.
We have everything needed to make the residential move as stress-free as possible for customers including free, no-obligation estimates and flexible payment options! Our rates are affordable and competitive. So, if you're on a budget or simply would rather not handle any of the details of your move yourself, call our office phone number at 855-715-6683. One of our customer service representatives will talk to you as soon as possible with information about our residential moving services.
We're Different from Other Residential Moving Companies
Our team of professional residential movers knows how stressful it is to move your home so we try our best to make your experience as smooth and easy as possible. Every time we help a customer move, we aim to provide the best possible service at an affordable price.
With years of experience in residential moving services and high-quality standards that meet or exceed industry standards, our team has been recognized as one of the top professional movers in town! We make sure that all of your belongings are handled with care and put in the right place. We also hire only experienced, uniformed moving professionals so you can rest assured that you're getting quality service!
Treasure Moving Company is a fully licensed and insured moving company. We are also BBB accredited with an A+ rating, so you don't have to worry about any damages or losses during your move!
We know that every move is different, which means no two moves require the same level of assistance. That's why our residential movers offer flexible services at all price levels. We can accommodate your local moving needs whether you're only relocating a few blocks away or if you need to move across the city, we'll make sure that we provide personalized attention and tailor our local moving services to meet your individualized requirements!
Our residential movers are experts at handling high-value objects like pianos and china cabinets for instance. We also have a wide range of specialized moving equipment to make sure that we can move even the heaviest and most cumbersome objects with ease. And lastly, our trucks are custom-designed so you don't have to worry about any damages or scratches while your belongings are being moved!
Moving is hard enough as it is, but when you choose to hire a residential moving company you can take comfort in knowing that your move is being handled by professionals who have the knowledge and skills required to make sure every aspect of your relocation goes smoothly.
RELATED: Apartment Movers