Your kitchen is filled with fragile items, appliances, and other essentials that require specialized attention. This comprehensive guide aims to provide you with all the tips and tricks you'll need for a smooth move. From how to pack your kitchen items to unpacking in your new home, we've got you covered.
Why Proper Kitchen Packing Matters?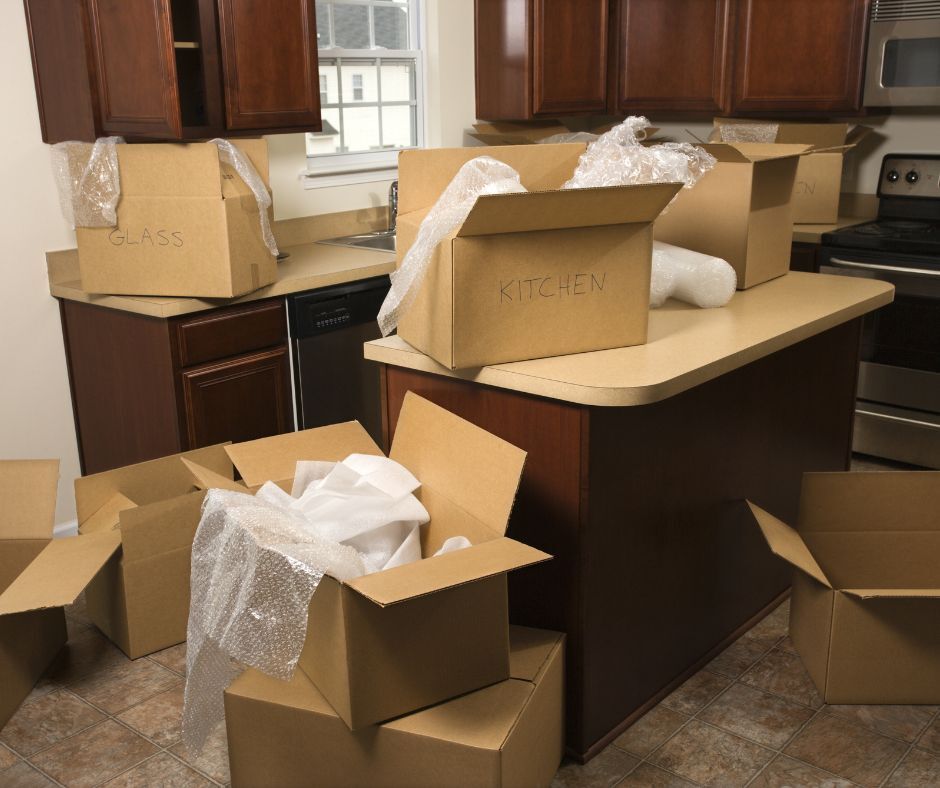 Improper packing can lead to broken dishes, damaged appliances, and stress. Proper moving day preparation ensures:
Safety of fragile items
Easier unpacking process
Reduced moving costs by avoiding damages
Pre-Move Preparations
Decluttering Your Kitchen
Before you even think about packing, it's essential to declutter your kitchen.
Expired Food: Check all expiry dates and dispose of anything that's out of date.
Unused Appliances: If you last used that juicer years ago, it may be time to let it go.
Meal Planning Before the Move
Creating a meal plan can help you use up perishable items and reduce waste. Plan meals that use up ingredients you already have.
Inventory Management
Create a list of all the items you'll be moving. Categorize them into:
Essentials
Nonessentials
Fragile Items
Essential Packing Supplies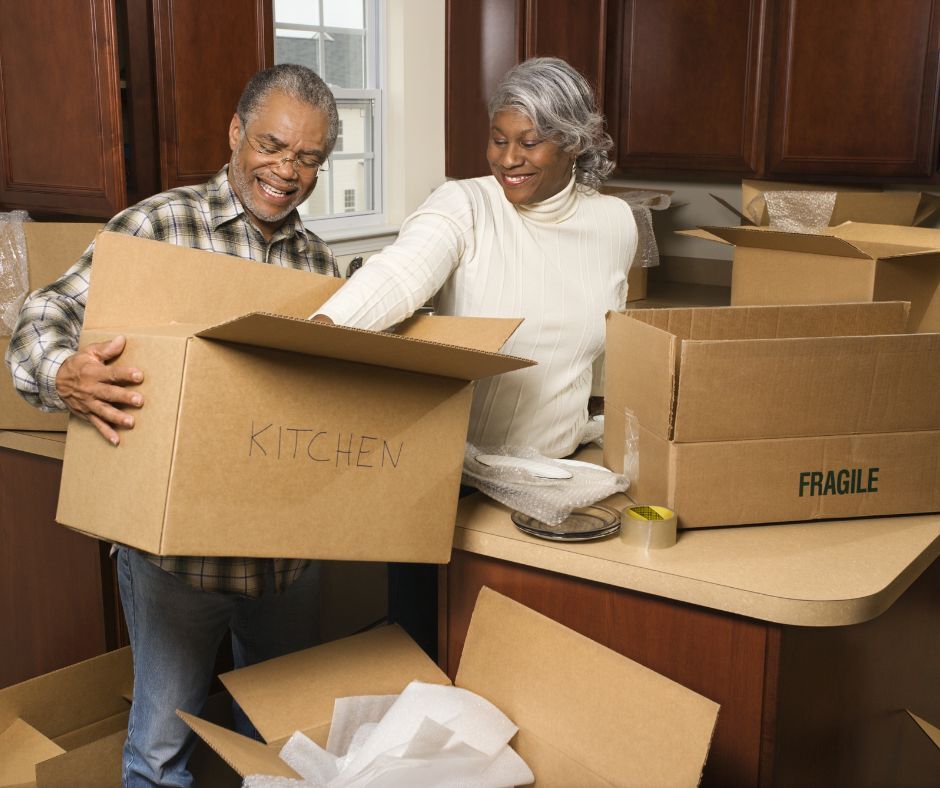 Choosing the Right Boxes and Containers
Selecting the right boxes is crucial for a successful move.
Standard Boxes: For non-fragile items
Specialized Boxes: For dishes, glassware, and other breakables
Protective Materials
Bubble Wrap: Ideal for wrapping fragile items.
Paper Protectors: Good for stacking dishes.
Eco-friendly Alternative: Old newspapers or clothes can also serve as protective material.
Labeling Supplies
Labelling your boxes can save you a ton of time during unpacking. Use color-coded stickers or markers to indicate what each box contains.
Step-by-Step Guide to Packing Your Kitchen
Packing Fragile Items
When it comes to packing dishes and glassware, extra care is needed.
Wrap each item in bubble wrap or paper protectors.
Place heavier items at the bottom of the box.
Fill any empty spaces with extra paper or bubble wrap.
Packing Appliances
Small Appliances: Wrap them in bubble wrap and place them in their original boxes if possible.
Large Appliances: These may require professional help.
Packing Utensils and Cookware
Sharp Objects: Wrap knives and other sharp objects in towels.
Pots and Pans: Stack them and place paper protectors between each.
Packing Pantry Items
Canned Goods: These can be packed into smaller boxes.
Spices: Make sure all lids are tightly sealed.
Special Considerations
Packing a Small Kitchen
Packing a small kitchen can be manageable with careful planning and organization. Here are steps to help you pack your small kitchen efficiently:
Declutter and Sort:
Start by decluttering your kitchen. Get rid of items you no longer need, use, or want. Donate or discard them.
Sort your kitchen items into categories: dishes, glassware, cookware, utensils, appliances, and food items.
Gather Packing Supplies:
Collect packing supplies like boxes, packing paper, bubble wrap, packing tape, labels, and markers.
Select the Right Boxes:
Use small to medium-sized boxes for packing kitchen items. Heavy items like dishes and pots should go in smaller boxes to prevent overloading.
Pack Fragile Items:
Wrap fragile items like dishes, glassware, and ceramics individually with packing paper or bubble wrap.
Place a layer of crumpled paper at the bottom of each box for cushioning.
Pack plates on their sides, rather than stacking them flat, to minimize the risk of breakage.
Fill empty spaces in the boxes with crumpled paper to prevent items from shifting during transit.
Pack Cookware and Utensils:
Nest pots and pans together, separating them with packing paper to prevent scratches.
Wrap sharp utensils in a kitchen towel or bubble wrap and secure them with tape.
Pack utensils in boxes or organizers designed for utensils to keep them organized and secure.
Pack Appliances:
Clean and dry your small kitchen appliances before packing.
Wrap them in packing paper or bubble wrap and place them in boxes.
Use the original appliance boxes if available, as they are designed for secure transport.
Label Boxes:
Clearly label each box with its contents and the room it belongs to. This will make unpacking much easier.
Pack Food Items:
Use sturdy, sealable containers for open food items to prevent spills.
Consider using a cooler for perishable items on a moving day.
Pack Cleaning Supplies:
Safely pack cleaning supplies in a separate box and label it accordingly.
Ensure that any hazardous cleaning materials are securely sealed.
Prepare an Essentials Box:
Pack a box with essential kitchen items you'll need immediately upon arrival at your new home. This might include dishes, utensils, a pot, and essential pantry items.
Disassemble Furniture:
If you have small kitchen furniture, such as a table or chairs, disassemble them for easier transportation.
Use Blankets and Towels:
Protect your kitchen furniture and appliances by wrapping them in blankets or towels to prevent scratches.
Load the Moving Truck:
When loading the moving truck, place the kitchen boxes carefully, ensuring they are secure and won't shift during transit.
Unpack Strategically:
When you arrive at your new home, unpack your kitchen items early so you can use your kitchen immediately.
Packing for a Long-Distance Move
Consider using specialized supplies like vacuum-sealed bags for long-distance moves for your pantry items.
DIY vs. Hiring Professional Movers
It might be worth hiring professionals if you're moving many fragile or expensive items.
Deciding between packing your kitchen yourself (DIY) or hiring professional movers to handle the packing depends on various factors, including your budget, time constraints, and the complexity of your kitchen items. Here's a breakdown of both options to help you make an informed decision:
DIY Packing:
Cost-Effective: Packing your kitchen yourself can save you money since you won't need to pay for professional packing services.
Control: You have full control over the packing process, allowing you to prioritize fragile or valuable items and pack them with care.
Personal Touch: You can organize your kitchen items how you want, making it easier to unpack and set up in your new home.
Time-Consuming: Packing a kitchen can be time-consuming, especially if you have many items, delicate dishware, and appliances.
Packing Supplies: You must purchase or gather supplies such as boxes, bubble wrap, packing paper, and tape.
Risk of Damage: If not packed properly, delicate items may risk damage during the move.
Hiring Professional Movers:
Time-Saving: Professional movers are experienced and can efficiently pack your kitchen, saving you time and effort.
Expertise: Movers know how to pack fragile items and appliances securely to minimize the risk of damage during transit.
Reduced Stress: You can focus on other aspects of the move while the professionals handle the packing.
Insurance: Many moving companies offer insurance options that cover any damage during the move, providing added peace of mind.
Cost: Hiring professional movers to pack your kitchen can be an additional expense, which may only be feasible for some.
Trust and Supervision: You'll need to trust the movers to handle your items carefully, and some people prefer to pack their valuable or sentimental items themselves.
Factors to Consider:
Budget: DIY packing may be the most cost-effective if you're on a tight budget.
Time: If you have limited time before your move, hiring professionals can save you significant time.
Complexity: If your kitchen has many delicate or valuable items, professional packers can ensure they are packed securely.
Stress Level: Consider your stress level and how much you will handle during the moving process.
Availability of Help: If you have friends or family members who can assist with packing, DIY packing can be more manageable.
Value of Items: If you have valuable or sentimental items, you might prefer to pack them yourself to ensure their safety.
Unpacking and Setting Up Your New Kitchen
Unpacking Essentials First
Start by unpacking the essentials like dishes, utensils, and basic cookware. This will allow you to have functional kitchen space right away.
Organizing Your New Kitchen
Zones: Create different zones for cooking, storage, and food preparation.
Frequency of Use: Place items you use frequently in easily accessible locations.
Re-evaluating and Rearranging
After you've lived in your new space for a week or two, re-evaluate your organization. Some things would be more convenient in different spots.
Kitchen packing doesn't have to be a nightmare. You can make your move as smooth as possible with proper planning, the right supplies, and a little organization. Whether you're moving into a large family home or a small apartment, these tips should help you prepare yourkitchen for a move that's as stress-free as possible.