Moving is always a hectic time, but it's important to make sure you take the time to properly protect your mattress. The last thing you want to do when moving is damaging your mattress, which can happen if you don't take the proper precautions. From here, we will going discuss on how to protect a mattress during a move and give some great tips for making sure that it stays in good condition no matter what.
Are you looking for packing services? Treasure Moving Company is here to assist you. Click here to get a free packing quote.
Use a mattress protector to keep your mattress clean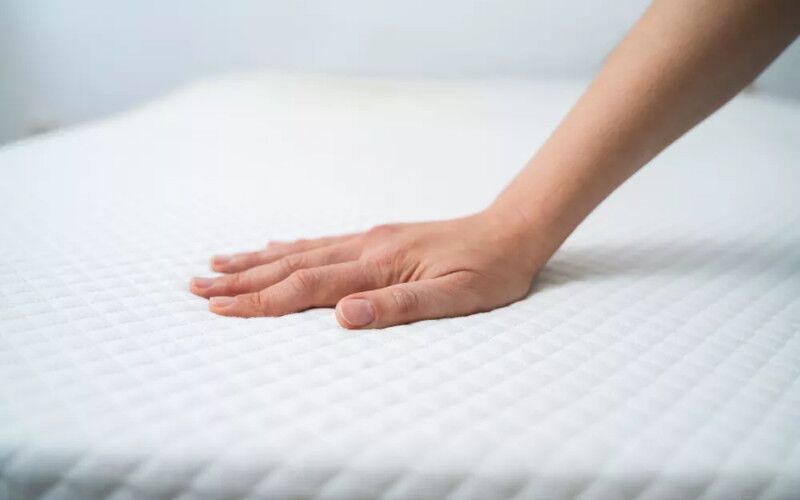 Use a mattress protector to keep your mattress clean and in good condition as you move. They are available online and at most retail stores that sell mattresses, protectors can be placed on top of existing sheets or they can come with fitted sheets which keep them from slipping during the night. Protectors also help prevent the development of dust mites and allergies by keeping out dirt and debris like hair and dander. They are really lightweight and easy to clean, simply take them out of the dryer before they're completely dry or put them in a warm water bath for about five minutes then hang them over your shower curtain rod to finish drying.
Pack your sheets last so they don't get wrinkled during the move process.
If you are using a moving company, make sure the movers know to place your sheets on top of your mattress. This will prevent them from being crushed between other items in the truck or van and also helps protect against any accidents that might happen during an intense move process.
When it comes time to unpack all those boxes, be sure to take care when placing your sheets back on the mattress. It is best practice to lay out a sheet protector and then put all of the fitted or flat sheets in place before putting down a protective cover over them. This way you can ensure that each sheet stays crisp and fresh for use by everyone who will stay with you at home.
Once you have moved into a new place, be sure to change the sheets on your beds as soon as possible. If any dirt or grime from moving can get down between the mattress and protector it might not come out completely after time has passed. This is why it's best practice to put a fresh set of sheet protectors on the beds as soon as possible.
Keep the box spring covered in order to protect its coils from exposure.
The best way of protecting your box spring is by placing both in an under-the-bed storage bag or cover them with quilts and blankets so they don't get scratched during the move. When movers are transporting your mattress, make sure you keep it covered with quilts or blankets to protect the coils from exposure.
In addition, any bedding or linens should be placed on the box spring while it is being transported. This is especially important with the mattress, as it is nearly impossible to keep clean while moving.
The last thing you want is for your expensive new bed frame to get scratched during a move. Make sure that every time you transport the box spring and mattress separately using handcarts rather than lifting the mattress to avoid unnecessary stress on your back.
You might consider renting a covered moving truck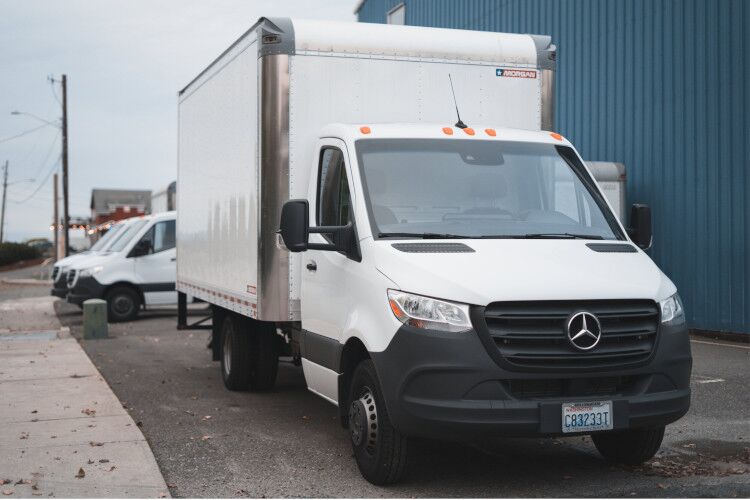 Moving your mattress to a new house can be stressful. Even if you hire professional movers, there's always the chance that the mattress gets damaged during the process. That's why many companies offer storage options for customers who are looking for ways to protect their mattresses during the move. You don't necessarily need to shell out hundreds of dollars to rent a storage unit and pay for the extra charges to pack, unpack, and store your mattress; you can rent a covered moving truck to protect your mattress from damage and help keep it clean and dry. It can also be used to transport other items such as couches and chairs. You can rent a covered moving truck in just a few minutes at any local moving company.
Make sure you have enough help when lifting up your mattress; do not lift by yourself!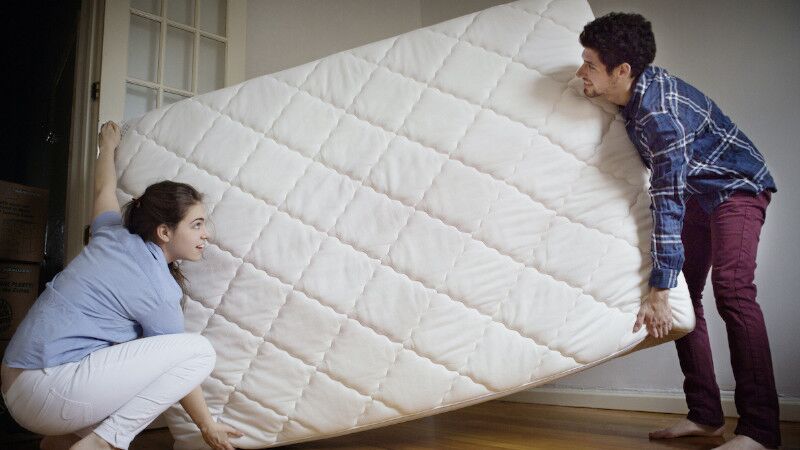 A mattress is a very heavy and bulky item that can be extremely difficult to move. If you are hiring a moving company, make sure they will bring mattress covers with them as well since the first thing they do is wrap your mattresses in plastic before placing them into boxes or on a dolly. This helps ensure that your mattresses remain clean throughout the entire moving process.
Moving companies are experts at packing your belongings in the truck because they do it every day, but if you are planning to move then make sure you wear protective gear when lifting up and carrying a mattress downstairs or into the moving van so that no one gets hurt during this very difficult task.
A mattress can be extremely heavy, especially if you are moving it up or downstairs. If possible, try to avoid having to lift your mattress up and down any stairs because this can be very dangerous for the person trying to do this alone as well as other people who may be helping out.
If someone lifts a mattress that is extremely heavy then they could end up hurting their back or even worse, dropping it on someone else who is standing below. To avoid this situation from happening at all costs, make sure there are plenty of people available to help carry the mattress downstairs and into the moving van so that no one gets hurt during this strenuous task.
Moving can be a daunting task, but it's important not to forget about the most basic of necessities. Protecting your mattresses during a move is essential if you don't want them to become too dirty or damaged. Hopefully, these tips will help make sure that no matter what happens, they stay in good condition for years after! Contact Treasure Moving Company at 855-715-6683 if you need help in moving heavy equipment and furniture.