Moving to a new place with kids is always exciting and anxious. It's important to prepare your children for your new home this transitioning phase can be even more challenging. Whether relocating for work, upsizing your residence, or simply looking for a change, preparing your offspring for the move is crucial.
Every house becomes a dwelling when it's filled with memories, laughter, and the occasional tense moments. Moving means leaving behind a familiar environment, which can be demanding for young ones. Understanding their emotions and concerns is the first step in preparing them for a new adventure.
Understanding the Impact of Moving on Children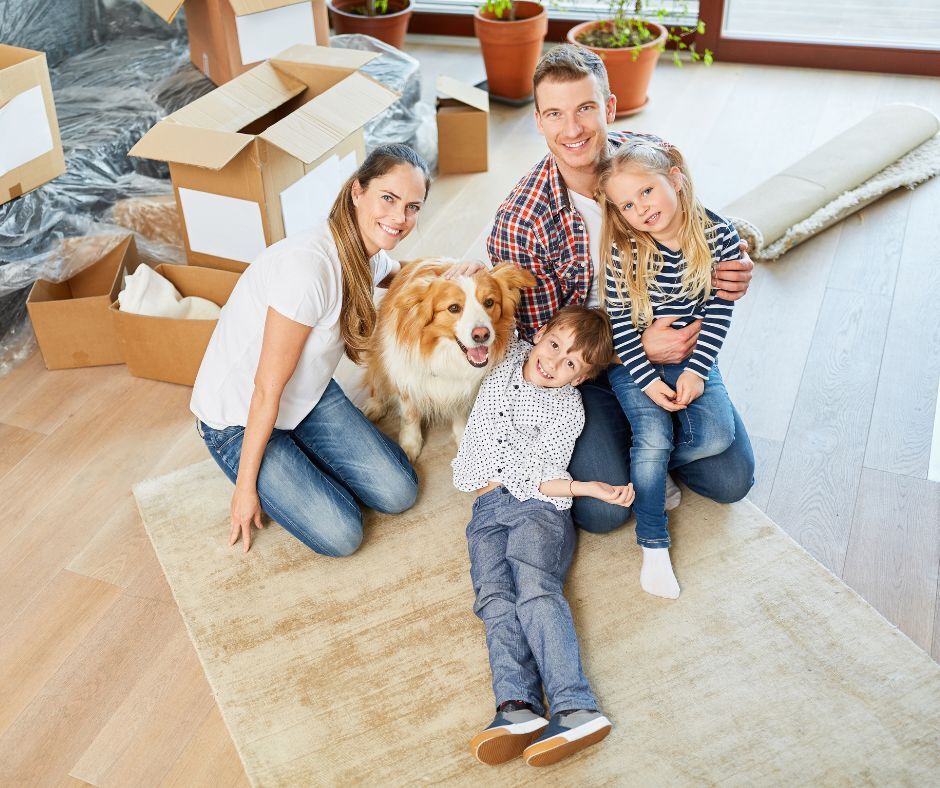 The effects of moving can vary depending on factors such as the child's age, temperament, the distance of the move, the reason for the move, and the level of support provided by parents and caregivers. Here are some potential impacts to consider:
Emotional and Psychological Impact:
Anxiety and Stress: Children might feel anxious due to the uncertainty and unfamiliarity of a new environment. They may worry about making new friends, fitting in, and adapting to a different lifestyle.
Loss and Grief: Moving can lead to loss, as children leave behind familiar places, friends, and routines. This loss can cause feelings of sadness and grief.
Social Impact:
Friendship Disruption: Leaving friends behind can be particularly challenging, especially for older children and adolescents who have developed close relationships. The need to establish new friendships can be stressful and take time.
Social Isolation: It may take time for children to establish new social connections, which could lead to periods of social isolation. This can impact their sense of belonging and self-esteem.
Academic Impact:
Educational Disruption: Changing schools can interrupt a child's academic progress. New curricula, teaching methods, and grading systems might require adjustment, potentially affecting performance.
Adaptation Period: Children may need time to adapt to the new educational environment and catch up with their peers.
Family Dynamics:
Parental Stress: The stress associated with moving, such as finding a new home, adjusting to a new job, and managing the logistics of the move, can impact parents' emotional availability, potentially affecting the parent-child relationship.
Siblings: Moving can also affect sibling relationships. Siblings might become closer as they rely on each other for companionship in a new place, or conflicts could arise due to the stress of the move.
Coping and Resilience:
Personal Growth: While challenging, moving can also provide opportunities for personal growth and resilience. Children learn to adapt to new situations, develop problem-solving skills, and become more flexible in dealing with change.
Building Resilience: A supportive environment, open communication, and opportunities to engage in new activities can help children develop resilience and coping mechanisms.
Prepare Your Children for Your New Home
Maintaining routines is paramount. Here's how you can ease the process:
Snuggle Sessions: Physical comfort can alleviate tension. Regular hugs and cuddles can provide the reassurance they need.
Simple Explanations: Use age-appropriate language to explain the move. For instance, "We're moving to a new house where you'll have a bigger room!"
Prioritizing Their Space: Set up their room first in the new residence to give them a sense of familiarity.
Sticking to Essential Routines: Keep the routine unchanged, whether bedtime stories or morning cartoons.
Guiding Preschoolers Through the Transition
Preschoolers are curious and have a million questions. Here's how to address them:
Open Conversations: Encourage them to express their feelings. A simple "How do you feel about our new home?" can open a dialogue.
Visual Aids: Show them pictures of the new place, nearby parks, or their new school.
Inclusive Activities: Let them pack their toys or choose the color of their new room.
Box Play: Turn packing into a game. They could decorate the boxes with colorful drawings!
Building New Friendships: Organize playdates with kids from the new neighborhood forenjoyment and amusement.
Navigating Multiple Moves with Older Children
For families that move frequently, stability becomes crucial:
Honest Communication: Be transparent about the reasons for shifting. This can reduce feelings of resentment or confusion.
Consistent Activities: Enroll them in similar extracurricular activities or clubs they were part of in the previous location.
Adjustment Period: Understand that each child is different. Some might adapt quickly, while others might take time.
Additional Tips for a Smooth Transition
Farewell Parties: Organize a small get-together to give a proper goodbye.
Tech to the Rescue: Use video calls to keep in touch with old friends.
Explore the New Area: Familiarize your kids with the new surroundings. A weekend exploration trip can be both entertaining and informative.
The Role of Parents in the Moving Process
Model Positive Behavior: Children often mirror their parents. Displaying a positive attitude can set the tone for the entire move.
Address Personal Anxieties: It's natural for parents to feel anxiety, too. Discussing these feelings with a partner or friend can be therapeutic.
Open Communication Channels: Regular family meetings allow everyone to voice their concerns.
Expert Insights
Research shows that children actively involved in the moving process adapt faster. Dr. Jane Doe, a child psychologist, states, "Children thrive on routine and familiarity. While moving disrupts this, involving them in organizing and arranging aspects can provide a sense of control."
Benefits of Hiring a Professional Moving Company
Hiring a professional moving company to assist with your move when you have kids can offer numerous benefits that significantly alleviate the stress and challenges associated with the relocation process. Here are some advantages of enlisting professional movers:
Reduced Stress: Moving can be incredibly stressful, especially when caring for children. Professional movers can handle your belongings' logistics, heavy lifting, and transportation, allowing you to focus more on your kids and their needs.
Time Savings: Moving involves extensive planning, packing, and organizing. With professional movers, you can save a substantial amount of time that you can dedicate to spending quality moments with your children and helping them adjust to the upcoming change.
Safety: Moving heavy furniture and boxes can be risky, especially with kids. Professional movers are trained in proper lifting techniques and have the necessary equipment to ensure the safety of your belongings and your family.
Efficient Packing: Packing with children in the house can be chaotic and time-consuming. Professional movers often offer packing services, which speed up the process and ensure that your items are packed securely and efficiently.
Familiarity with Regulations: If you're moving across state lines or internationally, various regulations and paperwork can be involved. Professional movers are well-versed in these requirements and can help ensure a smooth transition without legal hiccups.
Supervised Loading and Unloading: When moving with kids, you might need more time or energy to oversee the loading and unloading process. Professional movers will efficiently load and unload your belongings, allowing you to focus on your children's needs.
Stress Reduction for Kids: Moving can be unsettling for children, as they're leaving behind familiar surroundings. Professional movers can help expedite the process, minimizing your kids' time in an uncertain environment and helping them settle into the new home faster.
Insurance Coverage: Reputable moving companies cover your belongings during transit. This added protection can provide peace of mind, knowing that your items are financially safeguarded in case of unforeseen accidents.
Expertise and Experience: Professional movers have the experience and knowledge to handle various items, from fragile possessions to bulky furniture. This expertise can help prevent damage and ensure your belongings are handled carefully.
Customized Services: Many moving companies offer customized services tailored to your needs. This flexibility can be particularly beneficial when you have kids, as you can choose the level of assistance that best suits your family's requirements.
Unpacking Services: Some moving companies offer unpacking services, which can be a huge help when you settle into a new home while taking care of your children's needs.
In summary, hiring a professional moving company to assist you when moving with kids can significantly ease the transition by minimizing stress, saving time, ensuring safety, and providing expertise in handling your belongings. This allows you to focus more on your children and their emotional well-being during this challenging period.
FAQs
Q: How long does it typically take for children to adjust to a new home?

A: It varies. While some kids adapt within weeks, others might take a few months.

Q: How can I help my child cope with leaving friends behind?

A: Encourage regular communication through calls or letters. Also, help them make new friends in the new location.
Remember, every child is unique. While these tips provide a general guideline, constantly tailor your approach based on your child's personality and needs. Happy moving!